HSV Gives Back to Frontline Workers
February 18, 2021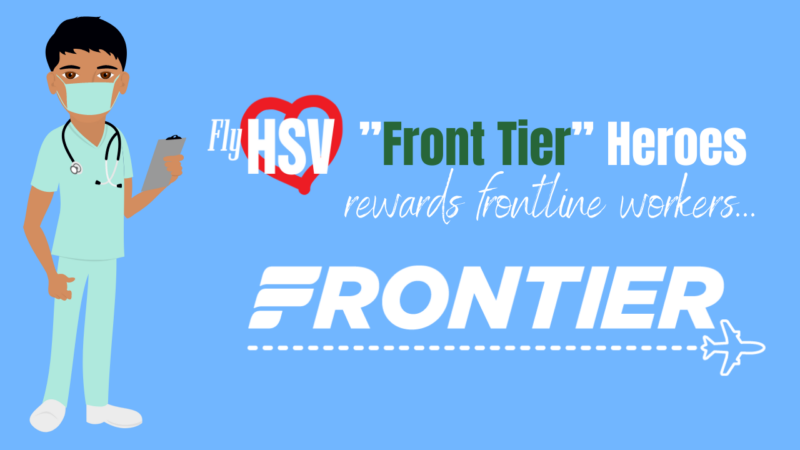 What: HSV Gives Back to Frontline Heroes with a 100 ticket giveaway
When: Registration opens Friday, February 19th at noon (12:00 pm)
Where: Registration is CLOSED and winners have been contacted!
Huntsville International Airport is giving back to those who have given the most during the pandemic. Frontline workers have been giving it their all for many months now and so HSV is giving them a chance to win a well-deserved break.
"Frontier Airlines serves our market with flights to sunny Orlando, Florida", said Jana Steen, PR Manager at Huntsville International Airport. "They have continued this service through trying times so we wanted to fill up some of those seats. This promotion gives HSV a chance to reward not only the men and women who have been on the front lines battling Covid-19 but also to give business to our airline partner who has continued to show a commitment to Huntsville. We believe it's a win-win for everyone."
Here's How: Registration will open online at FlyHuntsville.com on Friday, February 19 at 12:00 pm (noon) CST. Registrants may only register once per person and must be 18 years of age to register. Registrants will be asked to identify their employer and job title as a part of the registration in order to determine eligibility. The airport will select the first 50 qualified registrants and reward each person with two round trip airline tickets that can be used to book a Frontier Airlines flight to Orlando. Eligible travel dates for this contest are February 25th – March 25th. There are no exceptions so participants should make sure that they have the availability to travel before entering the contest.
Winners will be announced on the Huntsville International Airport Facebook Page at Facebook.com/HuntsvilleInternationalAirport beginning Friday, February 19th after 1 pm. Winners will also be contacted (for booking purposes only) using the e-mail provided on their registration. HSV reserves the right to change the rules of this contest at any time. Employees and tenants of the Port of Huntsville may not register for the contest.
*HSV is using the following definition of a "frontline worker" to determine eligibility for this contest: "(a) health care workers, defined as all paid and unpaid persons serving in healthcare settings who have the potential for direct or indirect exposure to patients or their infectious secretions and materials, and (b) first responders, defined as an active duty law enforcement officers and firefighters."
CONNECT WITH US to see the winners and Thank You for flying HSV…
Congratulations to our winners:
Corey Robinson, Brooke Swift, Katie Smith, Ramsha Khan, Ashli Jennings, Bradley Jefferson, Mike Hilyer, Justin Hall, Chloe Creel, George Coulter, Adina Breedlove, Derek McDougal, Shea Mincher, Elaine Minor, Polly Pinke, Cora Angiulli, Lillie Allen, Chris Holden, Shane Kyker, Tim Messer, Diana Kelley, Colette Tronti, Connie Schartung, Jack Brown, Elliott Ashby, Robert Scheppler, Amanda Mullins, Brook Burton, Jami Jones, Joni Snow, Christopher Dudley, Meagan Copeland, Tara Cooley, Bethany Chancelor, Timothy Keller, Amanda Ruffin, Jared Anderson, Laura Walls, Jessica Pannell, Ericka Hopkins, Brady Aderholt, Jessica Coyle, James Filley, Christopher Rayford, Alvin Wright, Chesley Smith, Gregory Rutherford, Carina Phillips, Cynthia Mort,  Jason Hetler