HSV Travel Updates Coronavirus (COVID-19)
February 1, 2021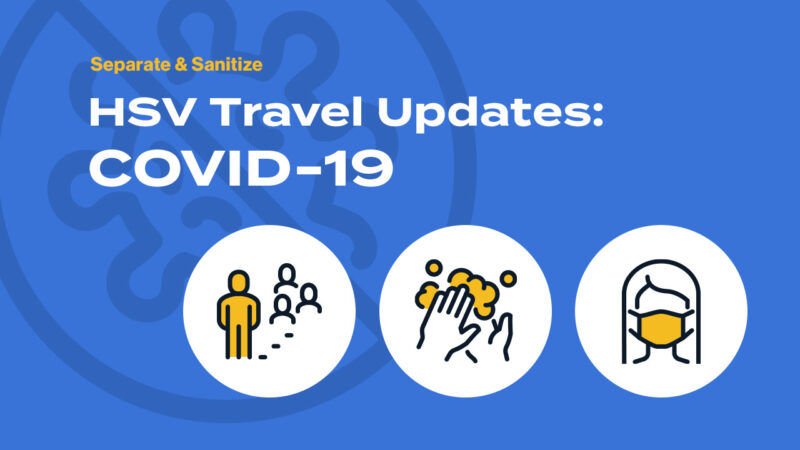 NOTICE: Update as of February 1, 2021- Masks or Face Coverings are Required at HSV by Federal Mandate (effective 11:59 p.m., ET, 2/1/21). Failure to wear face coverings could result in denial of entry or re-entry, and violations could result in penalties.
HSV's thoughts align with these in regards to Required Testing for Domestic Flights, read more here. 
HSV is working to ensure that our facility adheres to all of the CDC's recommended cleaning protocols and procedures. Upon a comprehensive and thorough review, we were able to determine that all of our processes and chemicals used in cleaning were already within the recommended materials list that would eliminate the transference of COVID-19. We will continue to monitor and update as needed.
A Few Reminders:
We discourage symptomatic or ill passengers, crew members, or airport workers, as well as those with known exposure to a person diagnosed with COVID-19 in the previous 14 days, from coming to the airport.
We encourage all who are flying to stay up to date with the most current procedures with their airline regarding what to do and expect before, during, and after travel.
CDC Guidance
According to the CDC, Coronavirus Disease 2019 ("COVID-19″) is spread mainly through close contact from person-to-person respiratory droplets from someone who is infected. Additionally, COVID-19 may be spread by people who are not showing symptoms. The CDC recommends that everyone wear a face-covering in public settings to avoid the spreading of COVID-19 to others in case you are infected but do not have symptoms. The Port of Huntsville encourages our passengers to follow guidance from the public health officials and stay informed of changes in guidelines and procedures to avoid exposure and the spread of COVID-19. Visit the CDC website for important updates on how to protect you and your families.
Resources
Airport Improvements:
Mask Policy
Huntsville International Airport will continue to uphold a Federal Mandate mask policy even after the state of Alabama lifts the state-wide mask mandate  on April 9, 2021 that requires people  to wear masks in public whenever they are within 6 feet of someone else from a different household.  More information available here.
The Centers for Disease Control and Prevention (CDC) issued an Order on January 29, 2021, requiring the wearing of masks by travelers to prevent the spread of the virus that causes COVID-19. More details on this order can be found here. 
As of April 9, 2021 – The State of Alabama has moved from the amended Safer at Home Order to a new Safer Apart Order, the third phase of COVID-19 pandemic health orders. Face coverings are no longer mandated statewide but individuals are strongly encouraged to wear a mask or other facial covering when in public and in close contact with other people.  This order is from April 9, 2021 and extends until 5 p.m. Wednesday, May 5, 2021.  The new Safer Apart Order details – visit State of Alabama Order 
On May 18, 2020, we implemented our mask policy, strongly urging anyone who enters the terminal building, whether they are flying or not, that they wear a face covering. Passengers are permitted to remove coverings in order to eat or drink.  The HSV policy will not require passengers to wear face coverings if it is unsafe for them to do so in accordance with guidance from the Centers for Disease Control and Prevention ("CDC").
Virtual Tour of the Facility
Is this your first time flying with HSV or would you like a walk-through of the facility without having to come in person? We have a virtual tour available for your viewing to allow peace of mind when you travel again. View tour here.
Separate and Sanitize Floor Stickers
Separate and Sanitize Floor Stickers are spread throughout the terminal building at our airline ticket counters, car rental counters, TSA, visitor's desk, hotel, airline gates, jet bridges, elevators, and more. These stickers indicate there is 6 feet between you and the person on the next sticker, this is just a great visual reminder of social distancing and keeping a CDC safe distance of 6 feet.
CDC Safe Seating
Signs are placed to show that skipping three-seat measure to a CDC safe distance of 6 feet.
Seating inside the concourse has been adjusted to comply with CDC safe seating.
Enhanced Cleaning and Disinfecting
We are so proud of our custodial team during this time. They are working tirelessly to wipe down and keep the facility disinfected for our passengers and employees. With traffic so slow at the moment we see them wiping these rails again even when passengers haven't used the equipment.
 Delta is also sanitizing our Security Checkpoint area every night with the same sanitation methods they are using on their aircrafts, this measure is in addition to TSA workers sanitizing their bins between uses.
Our custodial team has implemented Electrostatic Spray Sanitizer throughout the facility for a deeper clean.
Touchless Hand Sanitizing Stations
Spread throughout the terminal building are hand sanitizing stations that are touch-free for our passengers to use if they are unable to wash their hands after touching surfaces.  Additionally, until further notice, TSA is allowing passengers to bring hand sanitizer up to 12oz in carry-on bags.
Sneeze Guards
Our airline ticket counters, car rental counters, hotel desk, visitors desk, desks at the gates, our gift shops, and restaurant, all have plexiglass sneeze guards installed for an extra layer of protection for our passengers, employees, and tenants.
Signage
We have signs that show our Separate and Sanitize Floor Stickers and how those stickers represent a CDC safe distance of 6 feet. We also have signs marking CDC safe seating, 3 seats between unrelated parties marks the CDC safe distance of 6 feet, and the required face mask policy.
Four Points by Sheraton
Effective July 27, 2020 – Marriott International will require all guests to wear a face-covering in its hotels. Beginning on that date, guests are required to wear face coverings in all indoor public spaces of hotels across North America, no matter the jurisdiction. This is aligned with the American Hotel & Lodging Association (AHLA)'s industry-wide "Safe Stay Guest Checklist" announcement last week.
Huntsville International Airport will continue to uphold a Federal Mandate mask policy for HSV and associated businesses.

ACI Airport Health Accreditation
We are in the process of obtaining this designation.
The ACI Airport Health Accreditation (AHA) program provides airports with an assessment of how aligned their health measures are with the ACI Aviation Business Restart and Recovery guidelines and ICAO Council Aviation Restart Task Force recommendations along with industry best practices.
Benefits:

Enables airports to demonstrate to passengers, staff, regulators, and governments that they are prioritizing health and safety in a measurable, established manner.
Enables airports to validate their own measures throughout their facilities and processes.
Reassures the traveling public using the airport's facilities.
Promotes the recognition of professional excellence in maintaining safe hygienic facilities.
Promotes best practices and aligns efforts across the industry, and
Ensures harmonization between ICAO global guidance and industry implementation.
Traveler and Airline Information:
Airlines are implementing new safety measures to keep people healthy when they fly. All airlines flying out of HSV have mask policies and new procedures they are following during this pandemic. Airport workers are required to self-monitor and stay home if they have symptoms or a fever. HSV is requiring all airport employees, tenant employees, and contractor employees to wear face coverings in public areas of the airport terminal building.
Currently, passengers do not have to complete a health screening, but we encourage passengers flying through HSV to stay home if they feel sick, wash their hands frequently for at least 20 seconds with soap and water, avoid close contact with people and maintain a six feel distance.
Airline Updates:
With the constant changes and updates from the airlines, we want to make sure you are as updated as we are. Below are airline changes that have been put into place. These changes are implemented in some airports but not all.
IATA | Aircraft Cleaning and Disinfection during and post Pandemic
CDC | Updated Interim Guidance for Airlines and Airline Crew: Coronavirus Disease 2019 (COVID-19)