HSV Opens Charging Stations and Nursing Mothers' Station
January 21, 2020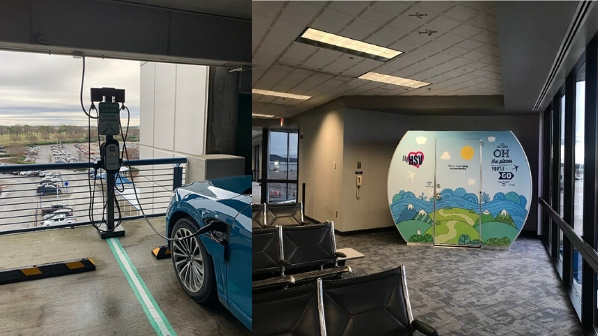 HSV Opens Nursing Mothers' Station
Whether for business, for pleasure, or in case of efficiency or emergency, air travel is such an integral part of 21st-century life. For a nursing mother, the "normal" stresses of air travel can be exacerbated when they must travel with their infant children.
Numerous requests had come into the airport to provide nursing moms a private, clean, safe place to take care of their young children's needs. Traditionally, airports, did not provide amenities specific to the needs of a new mom. Those needs had to be met in the women's restroom, usually on a diaper-changing table, or in a stall. Huntsville International Airport is always looking to improve the customer experience, and the lack of adequate accommodations for nursing mothers was an area where the airport saw room for improvement.
HSV has now joined a growing list of airports with special spaces designed and set aside for breastfeeding moms.  The lactation station at HSV is located between gates 2A/B and gate 4 on the concourse of the airport.
Created by Mamava – Spanish for "mother on the go" – the suite is large enough to accommodate a mother with a stroller, her child and a traveling companion. The pod features comfortable benches, a fold-down table, an electrical outlet for plugging in a breast pump and a door that can be locked for privacy.
"Huntsville International Airport is pleased to partner with Mamava on our brand new nursing station", said Rick Tucker, Huntsville International Airport CEO. "We always have an ear to the ground in order to listen to our passengers and understand how to better serve our wonderfully diverse region.  In addition, to the new lactation suites, the airport has also unveiled new electronic car charging stations. Both of these new amenities are responses to requests from our customer base and the airport is pleased to provide them to our passengers."
---
Electronic Car Charging Stations
Electronic Car Charging Stations are located on on the first floor (two units) and the fifth floor (four units) of the airport parking deck (north face) opposite of the elevator interface.
---
SOCIAL MEDIA:
Twitter: @FLYHSV
Tweet This: @FLYHSV responds to customer requests by unveiling a new lactation suite for breastfeeding mothers and electronic car charging stations in early 2020.
About Huntsville International Airport
The Port of Huntsville operating entities include:  Huntsville International Airport (HSV), International Intermodal Center, Jetplex Industrial Park, Signature Flight Support, Four Points Sheraton, Sunset Landing Golf Course and Foreign Trade Zone #83. Huntsville International Airport (HSV) is the largest commercial airport in North Alabama, serving over 1 million passengers annually. For more information, visit http://www.flyhuntsville.com/.
About Mamava