Huntsville International Airport Named One of the Top 10 Small Airports in the U.S. by USA Today 10 Best
February 12, 2021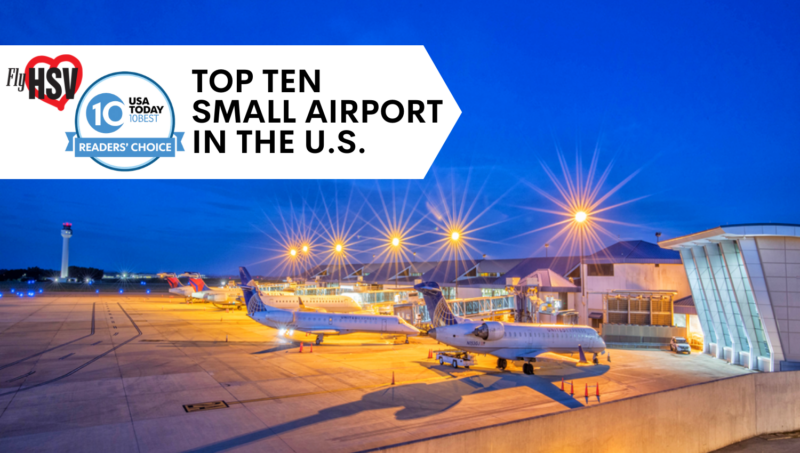 FOR IMMEDIATE RELEASE
Today, USA Today announced the Top Ten Small Airports in the U.S. Huntsville International Airport was among the top contenders. It is the only airport in Alabama to have secured a spot in the top twenty. Nominees were chosen by a panel of experts which included editors from USA Today, editors from 10Best.com, expert contributors, and sources from other Gannett media properties. Finalists were chosen by an online public vote that took place over the course of four weeks.
"Huntsville International Airport is honored to have been nominated once again as one of the Best Small Airports in the U.S. by USA Today", said Jana Steen, Public Relations Manager at Huntsville International. "We are grateful to our community for voting for us and keeping us among the top airports in the country for the second year in a row. We congratulate all of the fine airports that we share a top team status with."
The top ten winners in this category are as follows:
Myrtle Beach International Airport
Huntsville International Airport
T.F. Green Airport
Long Island MacArthur Airport
Piedmont Triad International Airport
Paine Field
Bradley International Airport
Wichita Dwight D. Eisenhower National Airport
Buffalo Niagara International Airport
Des Moines International Airport
See a full list of winners here: https://www.10best.com/awards/travel/best-small-airport-2020/
What is a Small Hub Airport: The Federal Aviation Administration's (FAA) National Plan of Integrated Airport Systems (NPIAS) identifies nearly 3,330 existing and proposed airports that are included in the national airport system. The NPIAS contains all commercial service airports, all reliever airports, and selected public-owned general aviation airports.
Airports are categorized by type of activities, including commercial service, primary, cargo service, reliever, and general aviation airports. The percentage of annual passenger boardings at a particular airport in relation to the overall number in the U.S. determines the hub size classification of an airport. This is more clearly defined 
on this chart.