Huntsville International Airport Partners with FAA Testing Drone Detection Systems to Protect U.S. Airports
March 17, 2023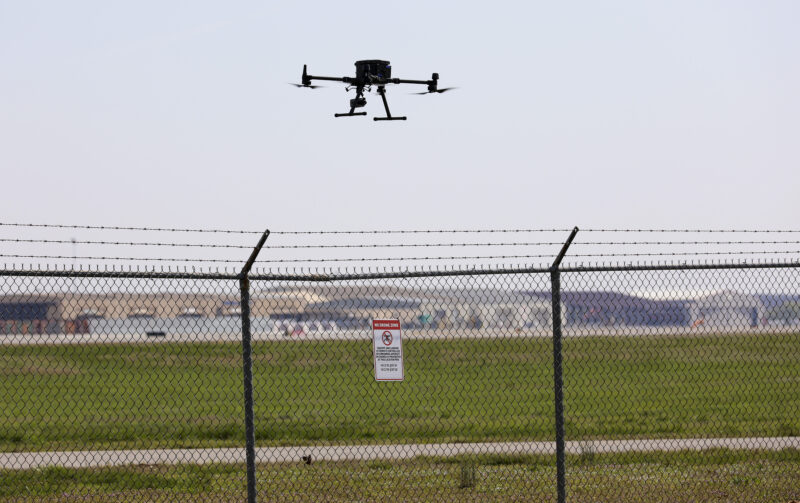 Huntsville, AL (March 16, 2023) – It's a familiar occurrence these days – you're enjoying an outdoor concert or sporting event and hear a loud whirring just overhead reminiscent of an extra-large bumblebee. Unmanned aerial systems, or drones as they are usually called, are more popular than ever, and most of the time, they are more annoyance than threat. But there is a very real risk to the safety of airplanes, crews and passengers when UAS stray into airspace reserved for manned aircraft.
The FAA prohibits drone flight over certain areas of airspace it has identified as No Drone Zones. There were 1,820 drone sightings in restricted No Drone Zones in the U.S. in 2022, up 398 sightings from 2021. These could include all types of UAS from mini nano-drones you can purchase at your local big box retailer for less than $100 to a commercial photography unit with a wingspan measured in feet rather than inches.
In anticipation of the increased use of drones for recreation, business and possibly more nefarious purposes, Congress has required the FAA to test and evaluate technologies that can detect – and if necessary, mitigate – potential risks to air fields posed by drones. Testing and evaluations are taking place at five airports around the nation: Atlantic City International Airport (ACY); Rickenbacker Airport (LCK) in Columbus, Ohio; Syracuse Hancock International Airport (SYR) in New York; Seattle-Tacoma International Airport (SEA) in Washington; and Huntsville International Airport (HSV) in Alabama.
"We consider it a privilege to be working with the FAA and other security partners for the benefit of all airports in promoting safe drone operation and to study risks associated with UAS in the airspace," said Butch Roberts, Huntsville International Airport CEO. "Participation in this national safety initiative is one more way Huntsville International is continuing our culture of innovation."
HSV invited reporters to attend an informational event and simulation of drone activity in the national airspace on Thursday at the airport. The FAA's UAS Flight Team in partnership with Huntsville-based enrGies company set up a scenario in which a drone breached the security fence surrounding the airport's perimeter and flew into restricted airspace. Kevin Vandeberg, Chief Operating Officer, and Ryan Gardner, Airport Operations Senior Manager, spoke about the Section 383 program mandated by Congress under U.S.C. Title 49. The program requires the FAA to test and evaluate technologies and systems that detect and/or mitigate potential aviation safety risks posed by unmanned aircraft systems (UAS), commonly referred to as drones.
"This work is important to ensuring safe airspace at our nation's airports because of risks to life and equipment caused by something like the ingestion of a wayward drone into an airplane engine or of a UAS distracting a pilot," said Vandeberg. "Part of the Section 383 program is assessing different detection systems and seeing how technologies pair with the communication and navigations systems in place at the five selected airports."
The 18-month Section 383 program began in 2021 and will sunset in September.
"With drones becoming more prevalent, there's a need to detect whether it's an authorized or unauthorized UAS," Gardner said. "It's already happening in our backyard, so we really want to be at the forefront of helping develop technologies that airports nationwide can use to better protect the airspace."
For more information, visit https://www.faa.gov/uas/critical_infrastructure/section_383.